January 2023 Stats: New Year, Slow Start to Sales
Real estate in Mission had a slow start in 2023 as January saw the slowest month of sales in a decade. The decline in real estate sales persisted due to the ongoing increase of interest rates, which continued to deter potential buyers from entering the market.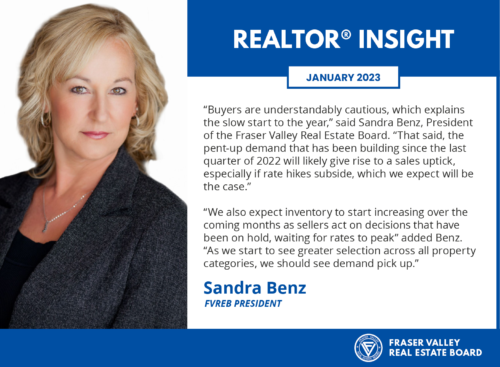 Mission Real Estate Statistics
The Board processed 626 sales of all property types on its Multiple Listing Service® (MLS®) in January 2023. 19 sales took place in Mission — a 52% decrease from January 2022. 16 detached homes were sold in January 2023, compared to 31 in January 2022. The sales of townhomes increased slightly compared to this month last year, and there were no sales of apartments in Mission in January 2023.

Active listings in Mission for detached homes, townhomes and apartments increased significantly compared to this month last year.

New listings in January 2023 increased by 9.5%  compared to this month last year.

Sales of all property types in Mission decreased by 42% compared to December 2022. 

Mission's Benchmark Price for detached homes in January 2023 was $875,100 compared to $1,232,100 in January 2022, a decrease of 28%. 
Are you thinking of buying or selling your home? Contact me today! I'd be happy to answer any questions you have about the current market or schedule a complimentary home evaluation. You can reach me directly at 604 302 0177 or [email protected] – let's talk.
Sign up for my newsletter! http://eepurl.com/ihJifz
Latest statistics package here!